H2X Global has seen unprecedented demand for its new hydrogen fuel cell electric vehicle, the Warrego Ute, with the company raking in A$50m ($37.2m) in order requests in the first four days.
With demand all around the globe, H2X has revealed that it has received over 200 order requests from countries including Australia, the Netherlands, Germany and Malaysia.
Read more: H2X Global to expand mobility portfolio with new hydrogen fuel cell electric vehicle
Read more: H2X to position itself as a global premium hydrogen vehicle manufacturer
H2X has additionally said that among those ordering the new Warrego Ute are several significant energy companies as well as a number of private buyers.
The Warrego features a 200KW motor system, 66KW and optional 90KW fuel cell systems in addition to a 60KW to 100KW output Energy Storage Systems between battery and super capacitor units.
Another standout feature of the hydrogen vehicle is that has a 500km driving range whilst boasting a refuelling time of between three to five minutes.
The Warrego Ute also utilises the unique H2X hybrid fuel cell system which allows the vehicle to run on pure hydrogen which drastically reduces refuelling times and increases driving range and hydrogen efficiency.
Haim Ptasznik, Director of Veida and one of the first purchasers of the vehicle, said, "The Warrego is the vehicle that we believe the community of green energy pioneers have been waiting for, especially with hydrogen already at parity with diesel kWh for kWh.
Not to mention, the problems that EV's pose to the electrical network with grid congestion and excessive unpredictable demand disappear, with hydrogen as a supply.
"We work with our clients to create alternative, green energy solutions and the demand for green hydrogen in Australia is booming.
"H2X is enabling us to be the first to integrate hydrogen vehicles and their powertrains into our solutions. An Australian Vehicle powered by green hydrogen is too good to pass up."
How to fast track Australia's hydrogen industry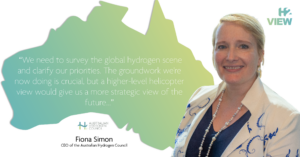 With China, Japan and South Korea recently announcing net zero targets, we can see that the transition from conventional fossil fuels is global and inevitable.
Within this energy transition, hydrogen is gaining increasing global attention for the important role it can play in the future energy mix. In combination with renewable electricity and batteries, clean hydrogen has potential to transform many countries' energy production and consumption. No longer an idea waiting for its time to come, hydrogen opportunities are now being actively pursued by countries and companies seeking to decarbonise.
Want to continue reading? Click here.