With more than 11,500 employees, AVL List GmbH is the world's largest independent company for the development, simulation and testing of all types of powertrain systems (hybrid, combustion engine, transmission, electric drive, batteries, fuel cell and control technology), their integration into the vehicle and is increasingly taking on new tasks in the field of assisted and autonomous driving as well as data intelligence. The company was founded in 1948 with the headquarters in Graz, Austria. It provides industry-leading technologies and services based on the highest quality and innovation standards to help customers reduce complexity and add value.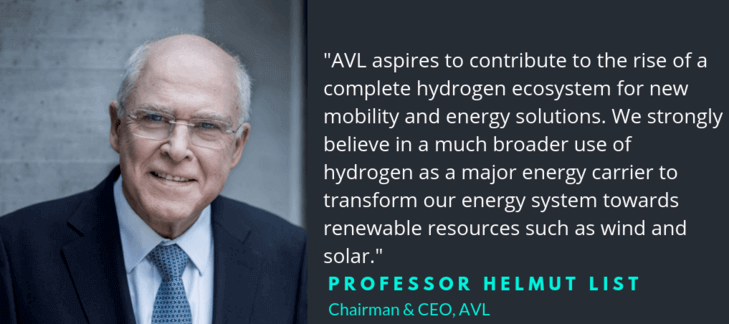 HYDROGEN IS THE CORE PILLAR OF THE FUTURE RENEWABLE ENERGY SYSTEM
Fuel cells and hydrogen are one of the most popular topics in our industry. Many countries in the world see this technology as a chance for a "green future". They are funding research & development with billions of euros/dollars accelerate the market's readiness.
At AVL, we strongly believe that hydrogen is the core pillar of a renewable energy system. It not only supports the energy storage of the growing renewable energy production from wind, solar and hydro, but also will be a key enabler for the future of synthetic fuels. In stationary applications such as combined heating and cooling power systems or data center applications the SOEC technology has already proven its potential to
AVL'S HISTORY IN HYDROGEN
AVL began investment in fuel cell and hydrogen R&D and business several decades ago. With the modern challenges the world is facing, these investments are now paying off and together with our internal partners we are shaping AVL's future in fuel cells. Our portfolio covers development, simulation and testing of hydrogen and e-Fuel production as well as hydrogen application and use in mobility and stationary applications.
Thanks to our technical expertise – from stacks up to the complete PEMFC systems – and our leading test solutions, we are the preferred partner of our customers for their future hydrogen-powered systems.
A NEW FUEL CELL TECH CENTER IN GRAZ
Our new fuel cell test center began operation at the beginning of 2020.
This center is further proof of our growing global competence in the field of fuel cells, a strength also reflected in our partnership with Greenlight Innovation (GLI) in Canada. GLI provides the necessary core technologies for cell and stack testing, completing our chain of competence for the full range of fuel cell testing. Furthermore, AVL Fuel Cell and Greenlight Innovation moved to a joint campus in Vancouver in the second quarter of 2020.
This is the next logical step in our plan to drive the further development of fuel cell technology worldwide. We want to ensure that customers can benefit from our experience in development, simulation and testing.
With our cross-sectoral approach, covering the areas of hydrogen production from renewable electricity, to the use of the hydrogen in mobile and stationary applications, AVL is a reliable partner in many different stages of the hydrogen journey.
---